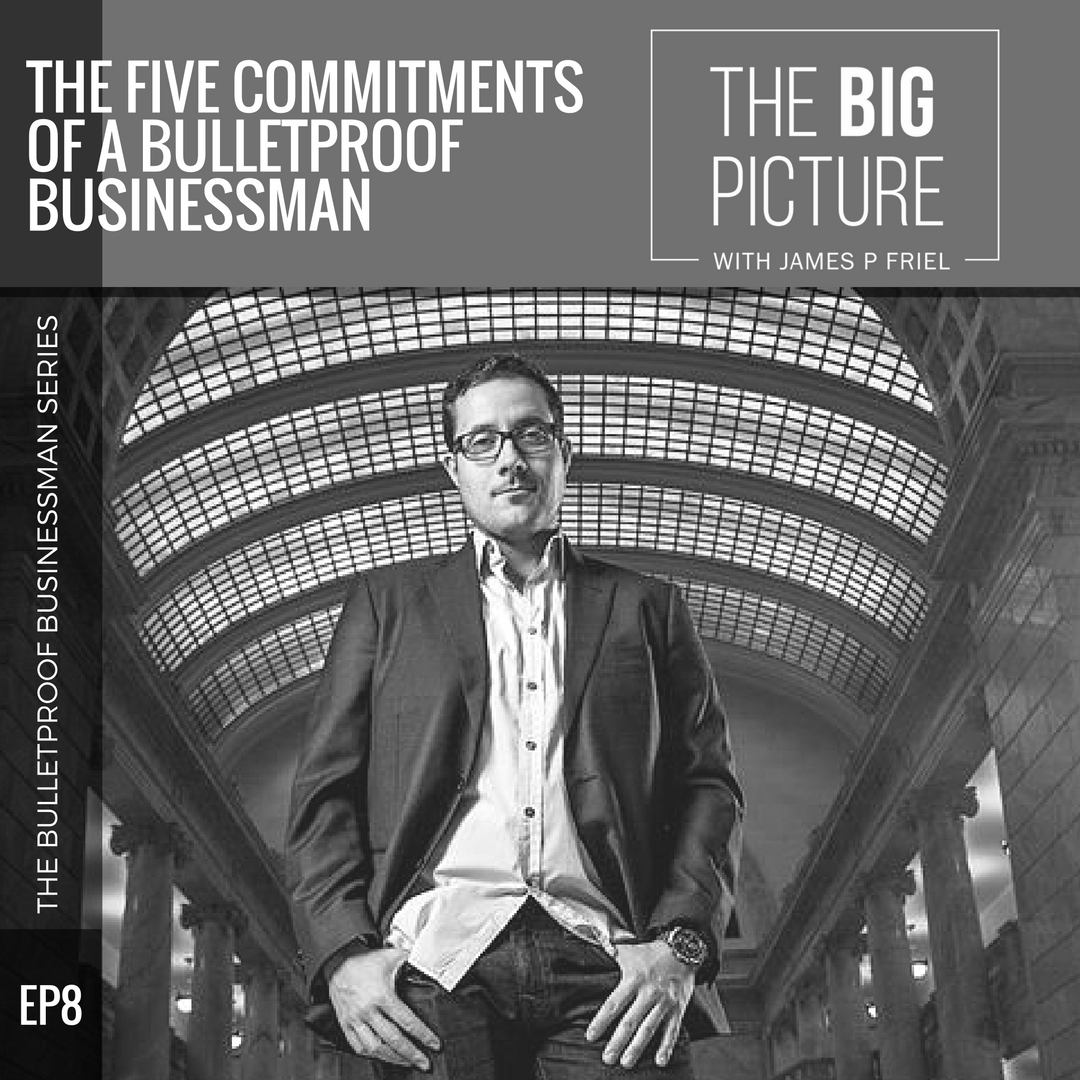 Podcast: Play in new window | Download
Do you want to be a bulletproof businessman?  Do you want to create a business that's predictable and sustainable? You have come to the right place. In this episode, James P Friel of Contract CEO discusses the vital five commitments that every bulletproof business fan must have. Why should you listen to James P Friel and not any other individual out there? Read on to find out why?
James P. Friel is a renowned American business consultant who focuses on helping small entrepreneurs systematically accelerate their business growth and sustainability. He will show you how to create profits that last from your business ventures.
When it comes to formal education, James believes that it is one of the keys to success in life. He holds a Bachelor of Science Degree in Human Factors Psychology from Embry-Riddle University. He was also a proud recipient of a departmental Academic Achievement Award during his time in the university.
James has spent his entire career exploring the Intersections of technology, performing sales and marketing and perfecting sales. He earned his ten years plus experience working with internationally recognized companies where he held senior level leadership positions.
One of the notable positions he has held was at HSBC bank. He was the head of digital strategy leading a team of 60 plus professionals who were distributed across three continents by the bank to assist in promoting the bank's website marketing strategy. His leadership skills facilitated the bank's remarkable success of doubling online sales. He also spent the better part of his life in the UK where he had a privileged to study leadership directly from the two-time British Olympic Gold Medal Rowing Team.
In 2011, he left the corporate world to start Contract CEO, a business consultant firm aimed at helping people create businesses that are predictable and sustainable. Since then, he has worked with several most loved CEO's and executive level staff of numerous small to mid-sized businesses. He boosts many achievements in his life. He has guided several business enthusiasts through proven processes and techniques for ensuring the proper foundation is in place for growth and effectiveness.
The idea of this show is to present things that you need to be committed to in order to take your business to take it to the next level. These are things that will cause your business to be predictable and sustainable; add value to you, your business and customers.
Here are five commitments of a bulletproof businessman which James has described in detail in this episode.
[07: 00] I know my customer.
Your customers are the life blood of your business. They are buying products and services from you not because they think you are so cool but because they think you are providing them something of value. They are buying something from you because you are providing something that meets the need that they have; needs they are unable to solve on their own. So you must know the people that you're selling to, know what it is they need to be scratched, know what's causing the pain, know things that irritate them and know what excites them. It's important to talk about the features and benefits of your product or the uniqueness of your services, but the most important thing is that you must be deeply committed to fulfilling your customer's emotional needs.
[16: 07] I know where to find the money
There is no shortage of things for you to try so that you can find some money. You need to take a step back and look at the big picture before you choose one of these strategies or traffic generation for marketing and things. A lot of entrepreneurs and business owners want to go out and find what's new. However, it is important for you, your customers and business to concentrate and be committed to your current efforts. Start building off your business with the progress you have already made and by looking at the right things in front of you. With time, you will be amazed at positive results.
[25: 08] I know how to create the plan.
You can dramatically increase your odds for success if you put a plan together. When you are formulating your plan, there are some basic questions you need to ask yourself? These include: What is my target is like or what do I want to achieve? What's the biggest problem that's getting in the way of me having what I want to achieve? After knowing what you want and things that are hindering you from achieving what you want, proceed to create a roadmap consisting of actions you are going to take to achieve your set goal. List down things that need to be done and then start training people to do what only you can do if you want to leverage.
[32: 20] I know how to measure my numbers.
If you want to make money, and you want to stick around for a while, then you must know your numbers. You need to understand the difference between you know cash accounting and a cruel accounting, and how one of them is going to give you an accurate set of gauges and the other isn't. You need to understand like what these numbers on your financial statements mean. Are you getting your financial statements are they clean? Are you looking at them? Are you using them to inform your decisions?
[36: 10] I manage my time for results.
You can make more money. You can find more customers. You can get new employees, different employees and more employees. You can create new products or new services. Everything else is renewable except time. You must appreciate the fact that your time is the most valuable thing that you have. To manage time properly, you must know what to do. And then when to do it. You cannot do everything. Only focus on the 20 percent that is going to give you the 80 percent of your results.
[40: 47] James makes a conclusion by saying that the five commandments of the bulletproof businessman do not guarantee success. What these commitments do is that they increase the odds of you being successful. They create the best conditions for success.
Resources and Links
https://www.amazon.com/Unleash-Warrior-Within-Discipline-Confidence/product-reviews/0738212482?pageNumber=2

http://www.ruleoneinvesting.com/blog/how-to-invest/warren-buffett-quotes-on-investing-success/

http://jamespfriel.com/about/